When visiting a new city, it's important to take in the culture. Try the local cuisine, visit a museum, and do plenty of sightseeing. Once you've tired yourself out, though, it's time find a local spa to enjoy a relaxing treatment (or two).
It's the perfect way to rejuvenate and energize yourself for the remainder of your trip.
While it's great to enjoy the occasional spa trip during a vacation or work trip, why not plan a trip around the spa visit instead? There are more than 22,000 spas in the United States alone and some of them are world-renowned. These destination spas are truly worth making a dedicated trip to enjoy an unforgettable experience.
Here are the top 6 destination spas in the United States: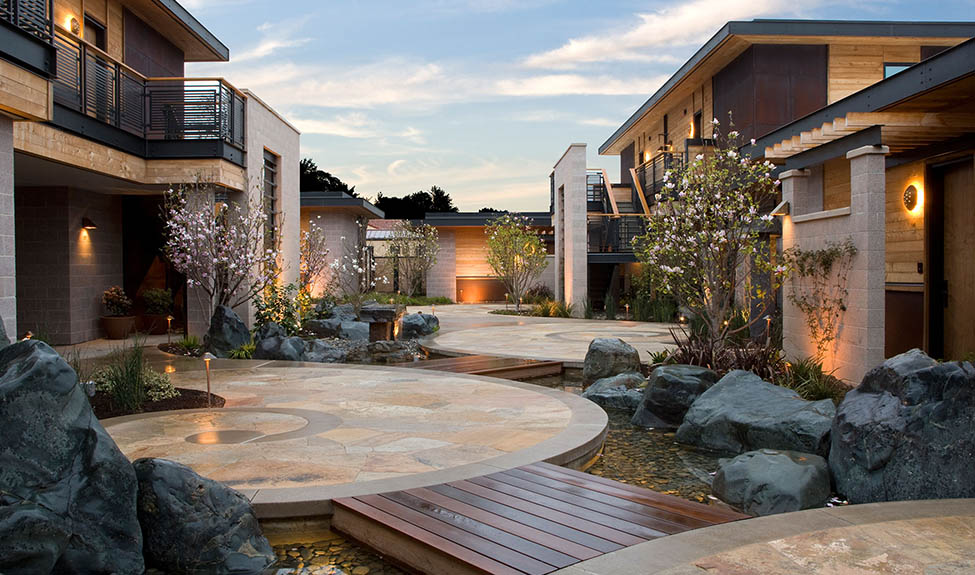 Location: Yountville, CA
Nestled in the heart of Napa Valley, Bardessono delivers a resort experience like none other. Guests are invited to unpack, unplug, and unwind for a comfortable stay in a luxurious suite or enjoy an exquisite escape in one of three signature Villas. At Bardessono, you'll find light-filled spaces, custom furnishings, organic bed linens, and hand-crafted bath products.
During your stay, you're invited to partake in field-to-fork dining that will excite your palate and indulge your senses. The resort is an easy walk to local wineries and the marketplace. If you're more interested in enjoying all Bardessono has to offer on the property, you won't want to skip the spa.
The B Spa at Bardessono delivers tranquility of mind, body, and soul through treatments that honor the four seasons. Spring is the time for purification and renewal to prepare your skin for the warmth of summer when treatments are focused on refreshing and soothing the skin. Autumn is when restoration and stress relief come into focus, followed by winter treatments to enhance immunity and circulation.
In B Spa's menu, you'll find a wide array of skin therapies and body glow treatments. Upgrade your treatment with aromatherapy, advanced exfoliation, or targeted treatment for the neck and décolleté.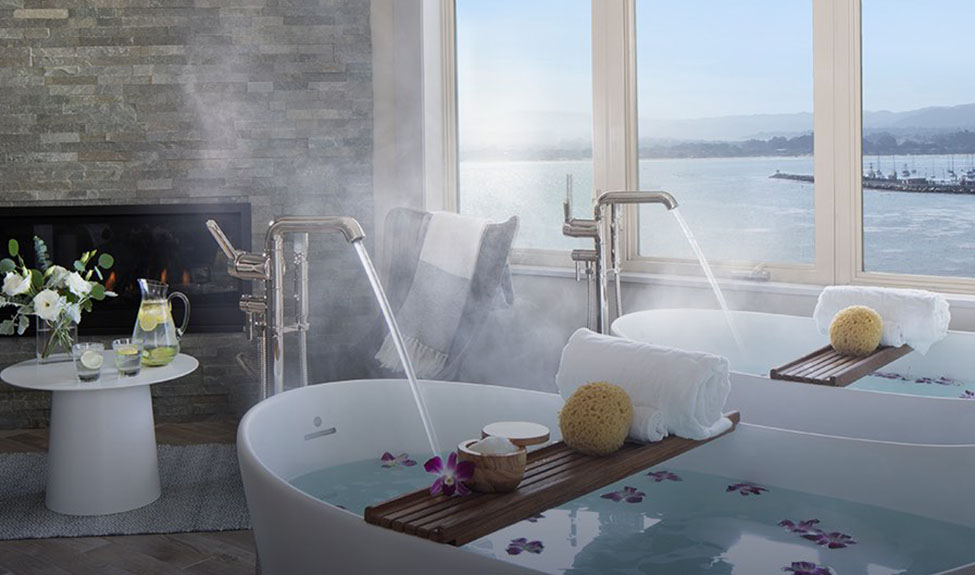 Location: Monterey, CA
Experience the natural wellness that can only be found on the shores of the Pacific Ocean at Vista Blue Spa. Housed on the property of the beautiful Monterey Plaza Hotel, the Vista Blue Spa has been named among Travel & Leisure's Top 25 for three years running.
The Monterey Plaza Hotel has a refreshingly classic aesthetic. Perched dramatically atop a beachfront property, you'll enjoy stunning views of the crashing surf and all of the carefully curated details you'd expect from a luxury resort. Dine in the chef-driven oceanfront restaurant, stroll along Cannery Row, or indulge in a day in the rooftop Vista Blue Spa.
At Vista Blue Spa, you can choose from a wide range of coastal inspired treatments to help you spa your way to wellness. The spa menu includes classic treatments like deep tissue and aromatherapy massages, as well as brightening, soothing, and clarifying facials. Enjoy these treatments in one of nine treatment rooms or upgrade your experience with a private spa suite.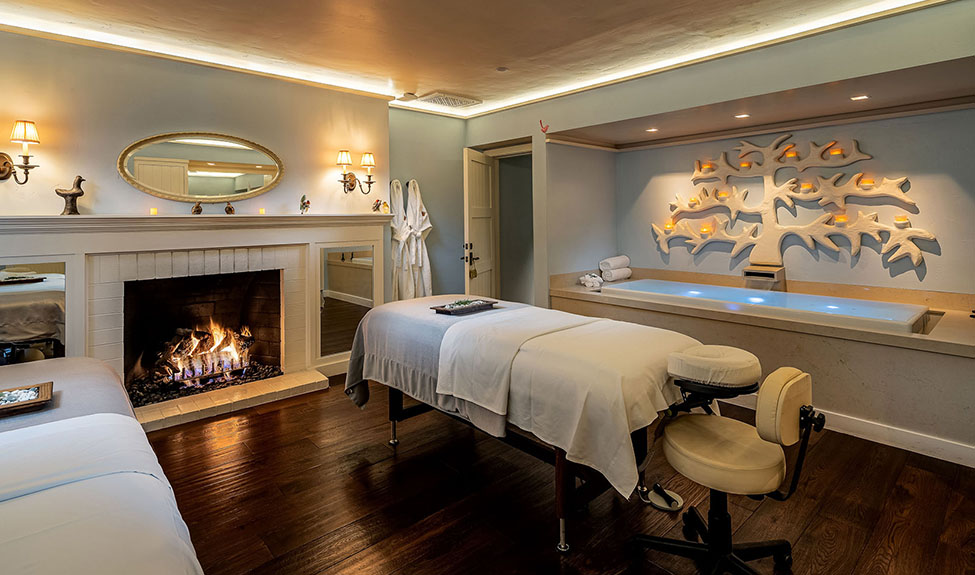 Location: Santa Barbara, CA
Tucked in the foothills of Santa Barbara, San Ysidro Ranch delivers peace, privacy, and tranquility in a truly idyllic setting. Enjoy luxurious accommodations in one of thirty-eight cottages, each surrounded by beautifully landscaped gardens and sheltered by stately oaks and sycamores. You'll even enjoy complimentary fine dining with your stay.
San Ysidro Ranch has a historical guest list that includes Groucho Marx, Winston Churchill, and John and Jackie Kennedy. Here you'll enjoy soothing massage, rejuvenating facials, and essential hair care services in an environment curated for calmness.
The spa at San Ysidro Ranch offers a variety of treatments including professional Yon-Ka facials like Le Grande Classique, Hydralessence, and Excellence Code. Customize your facial with oxygen therapy or a variety of intraceuticals to tone the skin, boost collagen production, or target fine lines and wrinkles.
San Ysidro Ranch has it all, whether you're stopping in for a quick treatment or spending the whole weekend. One thing is for certain: it'll be an experience you never forget.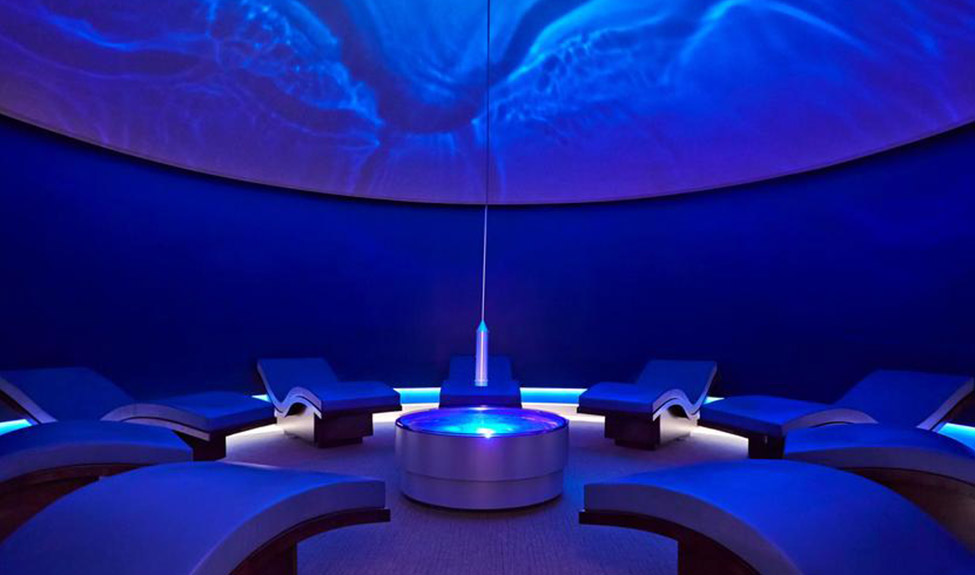 Location: Tucson, AZ
Additional Locations: Lenox, MA; Woodside, CA; Las Vegas, NV
Canyon Ranch is a wellness resort in the Sonoran Desert where experts have perfected a catalog of services and treatments over the course of four decades. The spa at Canyon Ranch is where you'll find some of the most knowledgeable spa professionals and cutting-edge treatments in the country.
Unlike the traditional day spa, Canyon Ranch is a full-service resort where you can stay for the weekend (or longer). If you have limited time, of course, you can book a single service or purchase a day pass.
With the full-access day pass, you'll enjoy a complimentary 50-minute massage or facial of your choice. Get in a good workout with dozens of fitness classes to choose from or lounge by the pool. You'll enjoy access to locker rooms, a relaxation area, whirlpool, and sauna. To make the most of your stay, take in the scenery on a two-mile loop or attend a wellness presentation.
While Canyon Ranch has no shortage of traditional spa treatments, you're also invited to enjoy holistic wellness experiences like early morning hikes, fitness clinics, yoga, and meditation. If you're feeling adventurous, you may enjoy the climbing wall or the ropes course.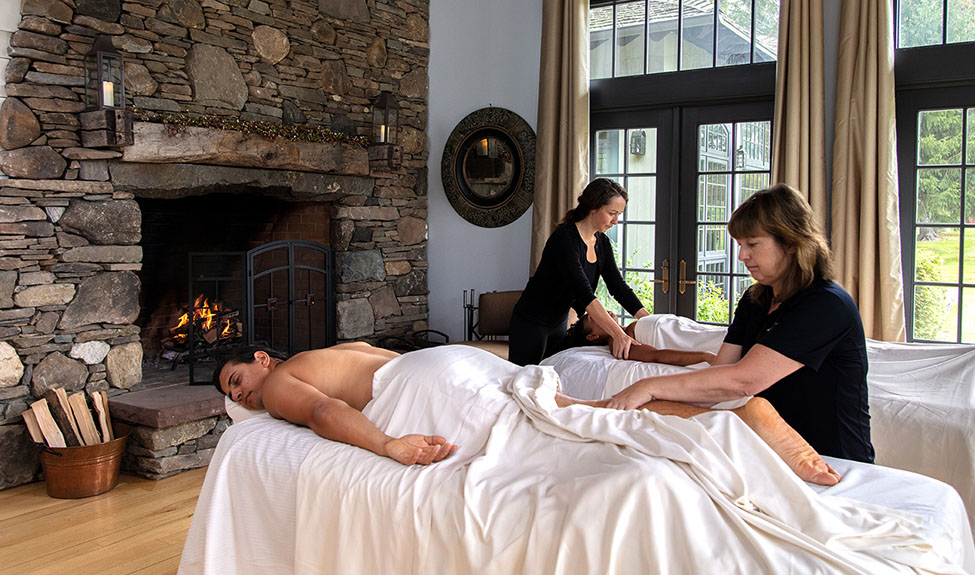 Location: Litchfield Hills, CT
Set on 113 acres in the quiet Litchfield Hills, Winvian Farm is the perfect place to get away from it all. Whether you're traveling alone or enjoying a romantic getaway, you'll find comfortable accommodations, 5-star dining, and a luxury spa waiting for you to enjoy.
At Winvian Farm, you'll find a 5,000 square foot sanctuary for spa treatments. Take in the beauty of the tranquil surroundings through arching windows in the Meditation Lounge. Enjoy an afternoon of pure bliss with a wide range of restorative therapies. The spa at Winvian Farm represents the perfect balance between ancient wisdom and modern expertise.
Not sure how to make the most of your time at Winvian Farm? Book one of three spa packages to enjoy a full day of luxurious massage, facials, yoga, and body treatments. The spa also offers an infrared sauna, Tibetan sound therapy, private yoga sessions and take-home spa products from Yon-Ka Paris.
If you simply can't get enough of the Winvian Farm experience, you're welcome to stay overnight in one of eighteen resort cottages. Designed by fifteen different architects, each cottage has its own aesthetic and unique flair.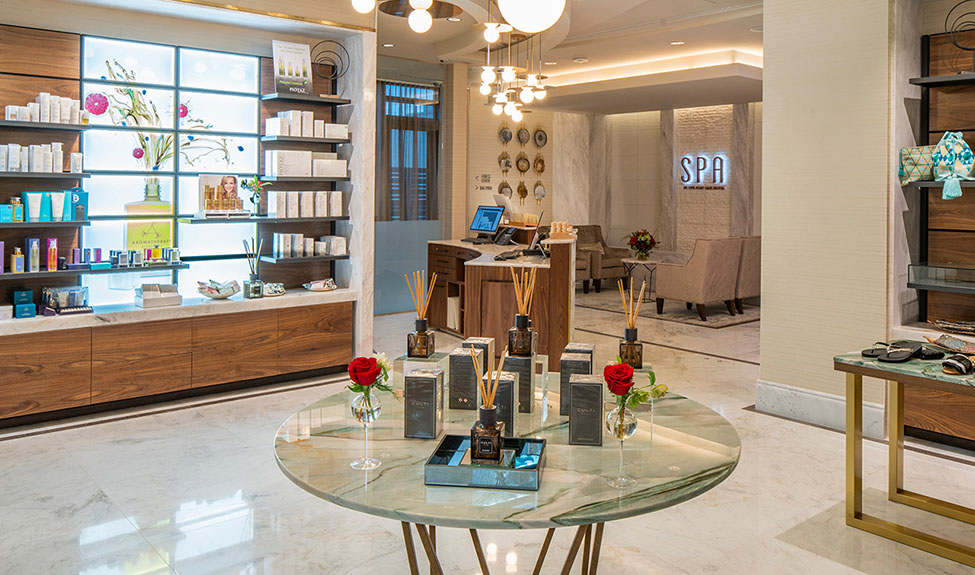 Location: Houston, TX
The Post Oak Hotel in Uptown Houston is nestled in the urban oasis of Post Oak. Rub elbows with fashion elites, distinguished professionals, and international travelers in a place where beauty, technology, and personalized service combine to create a unique and memorable experience.
Stunningly designed to create a soothing atmosphere, the spa at Post Oak offers a generous collection of therapeutic body treatments and skincare services. Highly skilled therapists are trained in ancient and contemporary techniques, enabling them to craft a customized experience to meet your individual needs and goals.
The spa at Post Oak is an expansive 20,000 square foot refuge for relaxation. Enjoy rituals for beauty, restoration, or grounding or unwind with a therapeutic massage infused with ancient healing practices. Professional facial treatments deliver cleansing, purification, and anti-aging benefits catered to your skin concerns while body treatments hydrate, nourish, and tighten the skin.
If you're looking for more advanced treatments, the spa at Post Oak offers microdermabrasion and electroporation as well as oxygen, LED, and radiofrequency therapy.