Though it may initially sound extreme, the use of medical-grade scalpels has become common in salons and spas as part of a popular treatment called dermaplaning.
Dermaplaning is a manual exfoliation technique that removes dead cells from the skin's surface along with pesky "peach fuzz." It results in a smoother, fresher complexion and skin ready to absorb moisture, skincare products and results in a flawless makeup application. As a skincare professional, dermaplaning is one of many techniques you may be familiar with or you it may be completely new and something you're curious to learn.
Before performing a dermaplaning service, it's important to obtain the proper training and certification – you should also follow the usual protocols of completing a client consultation, skin analysis, and education about the procedure to make sure your client knows what they're getting into. Results are best when the protocol combines with other professional products. You should also check with your state board to confirm its approved within your scope of practice. Here's what you should know.
What Are the Benefits of Dermaplaning?
Also known as microplanning or blading, dermaplaning is a treatment that utilizes an exfoliating blade to skim fine hair and dead skin cells from the face. The goal is to improve the skin's texture and brighten the complexion – it may also help remove uneven pockmarks or deep acne scars as well as fine lines and areas of sun damage.
Here are some of the benefits of dermaplaning:
It offers painless, non-chemical exfoliation to stimulate cellular turnover on a deeper level than many over-the-counter exfoliation products.
It can be performed prior to facial treatments to improve product penetration.
It can be performed as often as every two weeks and doesn't cause the hair to grow back thicker or darker. Results may last as long as 3 weeks.
It may help lighten acne scars and may help reduce inflammation to even skin texture and tone.
It doesn't require any downtime and there is a low risk for side effects when performed by a certified esthetician or dermatologist.
Though dermaplaning can revitalize dull skin, it isn't the right treatment for everyone. Be sure to complete a detailed consultation with your client and make sure they understand the procedure before you schedule them for treatment. It's also important to discuss the risks and potential side effects.
Dermaplaning vs. Microdermabrasion
Exfoliation is a key component of many professional facials, and for good reason. It's important to remove dead cells from the skin's surface to keep them from clogging the pores. Keeping the pores clear not only reduces the risk for breakouts but improves the skin's ability to absorb moisturizer and other skincare products. Dermaplaning and microdermabrasion are two exfoliation procedures that may confuse some clients.
Dermaplaning uses the edge of a small knife to remove dead skin cells, effectively "skimming" them from the surface of the skin. Microdermabrasion, on the other hand, sands down the skin using an abrasive surface, either by using a special tool to make direct contact with the skin or by directing fine particles toward the face with a blast of air. Though very different in application, both microdermabrasion and dermaplaning yield similar results and have similar concerns for safety and potential side effects. Both treatments are best performed by a trained skincare professional, though at-home products do exist.
Risks and Potential Side Effects
Your clients trust you with their skin and their safety, so it's important to take your role seriously. In addition to obtaining proper training to execute dermaplaning, you need to be able to communicate with your clients about the risks and potential side effects. It's also important to be honest with them to manage their expectations about the results.
The good news is dermaplaning is safe for most skin types when performed by a skincare professional. It can be particularly beneficial for clients with dry, dull skin and those seeking to reduce the appearance of fine lines and sun damage. Dermaplaning can, however, be irritating for clients with highly reactive and sensitive skin as well as clients with inflamed acne.
Dermaplaning shouldn't cause breakouts, but if your client has an existing breakout you may want to reschedule the service. On healthy skin, dermaplaning helps remove accumulated dead skin cells which can clog the pores and hair follicles, increasing the risk of breakouts.
Professional Tips for Dermaplaning
As a skincare professional, you've already completed your requisite training to obtain your esthetician license. If you want to administer specialty services like dermaplaning, however, you may need to seek advanced training. Dermaplaning typically isn't covered in basic esthetician programs but you can receive training through a formal course once you've obtained your license.
To help you get a feel for what dermaplaning involves, here are some pro tips:
Start by preparing the skin with a gentle cleanser to remove any traces of makeup, dirt, oil, and other impurities. Make sure you give the skin time to air dry before you start the procedure.
Apply the dermaplaning tool with light, feathery strokes in an away motion while holding the skin taut. Be careful when working in angled areas such as around the chin and eyebrows.
Hold the blade at a 45-degree angle to the skin, working from the hairline toward the center of the face. Your strokes should move in the opposite direction of hair growth.
Follow up the procedure with a cooling gel-based mask to calm the skin and boost hydration – free from accumulated skin cells on the surface, the skin will be ready to absorb product.
Finish with moisturizer and SPF. Recommend the client limit UV exposure for a few days, just to be safe after removing the top layer of skin.
Be particularly careful with clients who have sensitive skin – some may be able to handle the treatment while others may find it too harsh. Start gently and go slow.
One of the primary benefits of dermaplaning is that there is no downtime required for recovery. Your client may notice an immediate brightening effect, though you should make sure they understand it may take a few days to experience the full result. Some clients may experience mild redness, but that will subside in the days after treatment as well.
Addressing Common Client Questions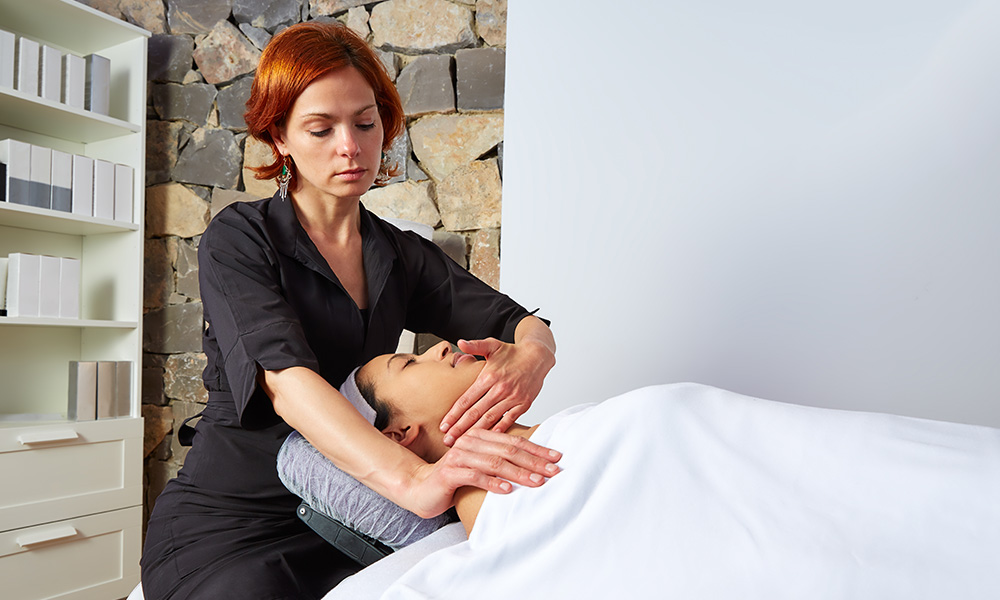 Your clients see you as a valuable resource when it comes to skincare, so be prepared to answer a few questions before and after treatment.
Before administering the service, it's important to set your client's expectations – many clients come into the spa expecting an immediate transformation when the full result may not be visible for several days. If this is your client's first dermaplaning treatment, warn them they may experience slight redness or tingling for a few days after the procedure. Severe reactions or worsening redness should be addressed with a physician or dermatologist.
The results of dermaplaning aren't permanent because the skin continues to regenerate. A single dermaplaning session can remove up to three weeks of dead skin cells, so your client should expect the results to fade within 3 to 4 months. Clients should be careful about sun exposure after dermaplaning, as the newly uncovered skin cells may be more susceptible to sun damage. Always advise your clients to wear sunscreen on a daily basis.
Dermaplaning is a popular skin treatment that has the potential to smooth the skin and brighten the complexion more significantly than at-home products. If you're looking for a way to expand your practice and build your skills, consider adding dermaplaning training to your resume.