As the winter drags on, you're bound to see more clients with dry skin and chapped lips. A luxurious spa facial can work wonders to restore hydration and protect the skin against moisture loss, but many people make the mistake of neglecting the lips during their daily skincare routines. As a skincare professional, you likely understand that lip care is extremely like overall skincare. In fact, you should recommend that your clients give their lips a little bit of extra love this winter.
When treating clients with dry, chapped lips, there is a certain sequence you should follow. It starts with exfoliation to remove dead and dry skin then moves into soothing and hydrating the skin beneath. Protection and moisture retention are important elements of a spa lip treatment as well.
Every client is unique and so is their skin, but treating dry lips is straightforward. Read on to learn 3 simple steps to treat your client's dry lips and to receive advice for helping your clients maintain their results at home.
3 Simple Steps to Treat Dry Lips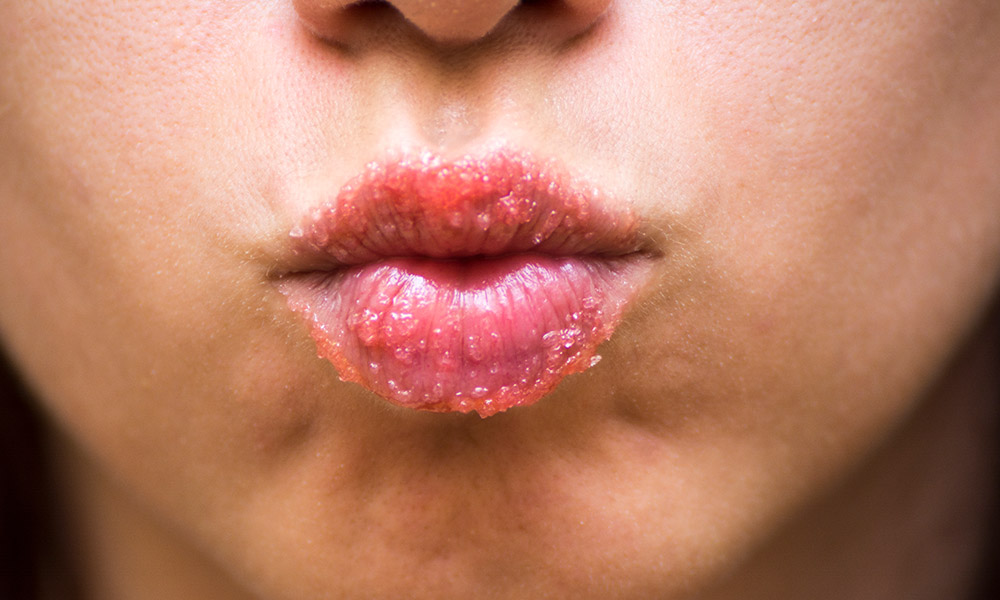 Healthy skin produces natural oil called sebum which hydrates and protects the skin against moisture loss. Harsh winter weather and other factors can damage the skin's protective barrier, leading to moisture loss which can leave the skin dry and chapped. Dry skin exacerbates the aging process, making fine lines and wrinkles more pronounced. When left untreated, dry skin can even become irritating or painful. This can be especially painful when it affects the lips, which do not have pores to secrete natural oils.
If your client is struggling with dry, cracked lips they might benefit from a dedicated lip treatment. Treating chapped lips is not complicated. In fact, it involves just three simple steps.
Follow these three steps to treat your client's chapped lips:
Exfoliate. The first step in treating dry, chapped lips is to remove the top layer of dead skin. As the top layer of skin dries out, it can crack and flake – exfoliation removes dead skin cells from the surface to reveal healthier skin underneath. Additionally, removing that top layer of dead skin enables lip balm and other lip treatments to penetrate the skin.
Here are the steps to follow to exfoliate the lips:
Apply a gentle cleanser to the lips to remove any traces of lip balm then pat them dry.
Using a circular motion, apply a small amount of lip scrub to the lips.
Gently remove any excess lip scrub following the exfoliation.
Once you have removed the top layer of dry, dead skin, the next step is to soothe and hydrate the new skin revealed beneath.Apply a lip mask to restore moisture and to impart deep hydration. Ingredients like hyaluronic acid help plump and hydrate the lips while soothing ingredients like shea butter, almond oil, and aloe vera help seal in moisture.
Finish the treatment with a light layer of nourishing lip balm to lock in moisture and protect the lips. For clients with severely dry skin, a thicker ointment may be required.
Recommendations to Sustain Results at Home
A single lip treatment may help exfoliate away dead skin and hydrate the new skin underneath, but those results may not last unless your client does a little work at home. Before you send your client home, be sure to educate them about what to expect over the coming days and weeks. Though you may have removed dead skin from the surface of the lips, the skin's regeneration cycle will continue, and more dead skin will accumulate. Give your client recommendations for how to keep up with exfoliation at home and for how to keep their lips healthy and hydrated going forward.
Here are some recommendations you might suggest:
Apply natural or hypoallergenic lip balm several times a day. For clients with very chapped lips, a thicker ointment may be necessary to seal in moisture.
Wear lip balm with SPF when going outdoors. Even in the winter the sun can damage your skin and it dry, chapped lips are more susceptible to sunburn which can then lead to the development of cold sores.
Avoid licking and biting your lips. It may be tempting to lick dry lips to impart a little moisture, but this can dry out the lips as it evaporates. Saliva also has digestive enzymes in it, which will wear down the skin on the lips. Biting and picking at the lips can break the skin, making matters much worse. Drinking enough water and staying hydrated throughout the day will help.
Try using a humidifier at home. If your client has severely chapped lips, odds are the rest of their skin is dry as well. Using a humidifier at home can help keep the skin from drying out.
Make a homemade lip scrub. A simple lip scrub can be made using a 1-to-1 ratio of an exfoliating agent (like sugar or sea salt) and an emollient (like hone or almond oil).
For clients with dry, chapped lips, it may be necessary to repeat the treatment once a week for a month or so to restore the skin to health and hydration. Between treatments, recommend that your client keep their lips clean and hydrated but caution them against over-exfoliating between treatments. This can damage the skin, leaving it prone to moisture loss which can worsen dryness.