Massage therapy is a cornerstone treatment at any spa, but there are a variety of different styles of massage you can offer. Swedish massage is one of the most popular options along with deep tissue, trigger point, and hot stone massage. If you're looking to expand your spa menu and offer something uniquely enjoyable for your clientele, consider reflexology.
Reflexology is a type of massage that focuses on the feet, hands, and ears. By applying gentle pressure to these areas, a massage therapist can induce relaxation, restore energy balance, and promote healing. Here's what you need to know about reflexology and why you should add it to your spa menu.
What is Reflexology?
Reflexology is a type of massage and form of touch therapy that can provide deep relaxation and a number of health benefits. The practice is based on the idea that various points in the feet, lower legs, hands, face, and ears correspond with the different systems and organs of the body. Applying pressure to these points may trigger relaxation, healing, and energy balance in the corresponding areas. A reflexologist typically uses a foot chart to guide them in applying pressure to the various trigger points.
A Brief History of Reflexology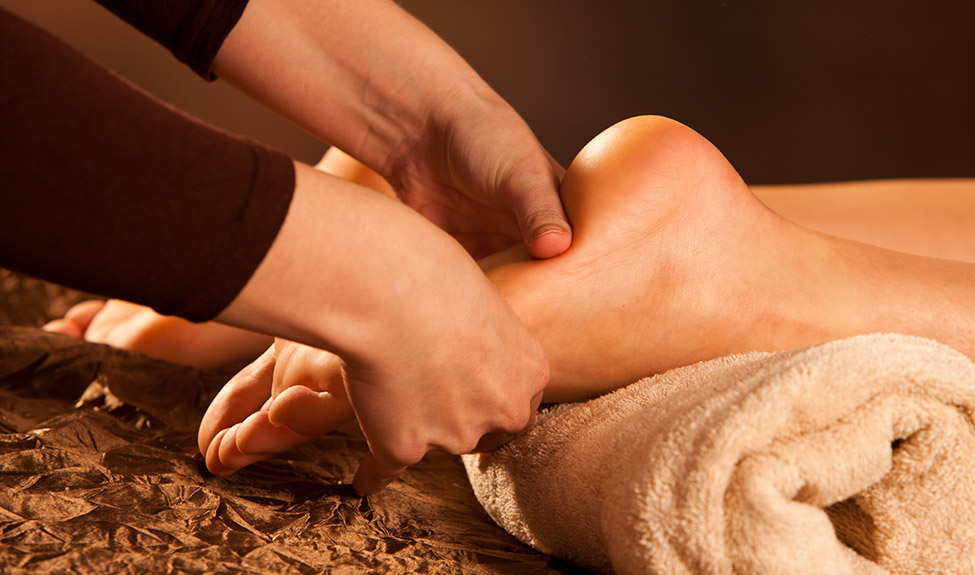 The art of reflexology dates all the way back to Ancient China, India, and Egypt but it was introduced in the West sometime during the 1900s. Though Dr. William Fitzgerald is credited with popularizing "Zone therapy" in the United States in the early 1900s, Native American tribes have been practicing various forms of foot therapy for centuries.
Dr. Fitzgerald received a medical degree from the University of Vermont in 1895 and spent the early years of his career practicing in Boston before traveling to London. After spending a few years working at the Central London Nose and Throat Hospital, he took a position as Assistant to Professors Politzer and Chiari who were highly respected doctors of the time. Throughout his career, Dr. Fitzgerald was influenced by the work of Dr. d'Arsonval who was using physiotherapy and an early form of reflexology.
Upon returning to the United States, Dr. Fitzgerald became the head of the Nose and Throat Department at St. Francis Hospital in Hartford, CT where he re-discovered Zone Therapy. In 1917, he wrote "Zone Therapy or Relieving Pain in the Home" which was later enlarged and republished under an alternative title, "Zone Therapy or Curing Pain and Disease."
In the 1930s, Eunice Ingham developed Zone Therapy into what we now know was reflexology. It was her opinion that tension in any part of the foot was mirrored in the corresponding point on the body. While modern research on reflexology is limited, it has been linked to many potential health benefits.
The Benefits of Reflexology
While no significant clinical studies of reflexology have been conducted, there is some research to support its purported benefits.
A 2011 study funded by the National Cancer Institute, for example, found that reflexology helped women with advanced breast cancer who were undergoing medical treatment. Many of the women in the study reported reduction in symptoms like shortness of breath as well as improved quality of life, though it didn't seem to affect their levels of pain. In an older study, however, women experiencing premenstrual pain did report an improvement in pain.
Here are some of the potential benefits of reflexology:
It may reduce stress and anxiety
It could help relieve pain
It might help lift the mood and ease depression
It may boost the immune system
It can contribute to an improved sense of wellbeing
It may help improve digestion
It could speed healing and recovery from infection
While research supporting the benefits of reflexology is limited, there is plenty of anecdotal evidence to be found. As is true for all forms of massage therapy, individual experience may vary.
Should You Add it to Your Spa Menu?
As a spa owner, it's your goal to entice new clients to visit your spa and to give them such a pleasant and memorable experience that they want to keep coming back. Offering a solid menu of popular spa services is a great way to do that, but it's also important to offer add-ons and upgrades for clients who may be interested in customizing their experience.
Reflexology is an ideal add-on because it can be added to any traditional massage and even to facial and body treatments. Reflexology treatments generally last 30 to 60 minutes and because they are isolated to the feet, hands, and ears, the client doesn't even need to fully undress.
It's a great option for individuals who aren't comfortable being touched on their entire body and for those who prefer not to fully undress. It also doesn't require any upfront costs on your part as a spa owner.
The key to success in the spa industry is making your customers feel at-home when they walk in and relaxed when they leave. Adding reflexology to your spa menu is a simple, cost-effective change you can make to add value and upgrade your client experience.