Every client that walks into your spa dreams of healthy, glowing skin. On top of a daily skincare routine, spa treatments can help accomplish that goal. Whether in-spa or at-home, no skincare routine would be complete without exfoliation and sugar scrubs are an ideal option.
Though the idea of rubbing sugar into the skin may sound new to some, it's a rising trend and skincare experts agree, it's not only an effective treatment but also incredibly relaxing.
Here's what you need to know about sugar scrubs…
What is a Sugar Scrub?
A sugar scrub is a product used to gently exfoliate the skin, removing dead cells built-up on the surface. Though typically applied to the face, sugar scrubs can be used as a foot, hand, or body treatment as well. Like the name suggests, these scrubs utilize sugar granules to buff away dead skin cells and promote healthy cell turnover.
Like many skincare products, sugar scrubs can do double duty. While sugar granules help remove dead skin cells on the surface of the skin, other ingredients in the scrub can provide hydrating, brightening, and even anti-aging benefits. Modern sugar scrubs like Yon-Ka's Gommage Sucre can even transform from a granular texture into a soothing milk, nourishing and softening the skin in addition to the exfoliation.
What Benefits Do They Provide?
As is true for any skincare product, proper application is essential. Fortunately, sugar scrubs are easy to use and even easier to incorporate into your spa menu. They're a great option for clients looking to upgrade or change up their skincare routine or those who simply want to spring for an extra indulgence.
Here are some of the potential benefits sugar scrubs provide for clients:
They provide mechanical exfoliation, physically removing the top layer of skin cells along with dirt, excess oil, and other impurities.
By removing buildup from the skin, they can contribute to a brighter and more radiant complexion.
They offer a gentler form of exfoliation than other scrubs, especially considering the sugar granules melt into the skin.
The oils used to make sugar scrubs can help moisturize the skin, relieving dryness and providing long-lasting hydration.
Regular exfoliation with products like sugar scrubs can help unclog the pores, even skin texture, and prevent ingrown hairs.
While sugar scrubs can be extremely beneficial, there is light risk involved simply because it's a form of physical exfoliation. Make sure you choose products made with smooth granules and instruct your staff in the proper application technique to avoid agitating the skin.
Tips for Incorporating Sugar Scrubs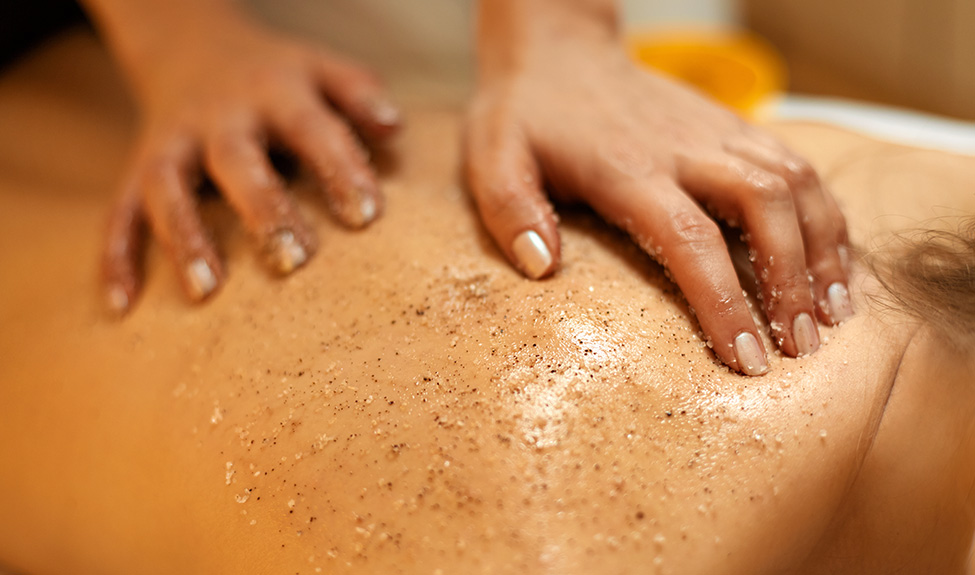 Sugar scrubs are incredibly popular, so you may not need much help encouraging your clients to take advantage of these treatments. That being said, there are some unique opportunities for staff to recommend sugar scrubs as an add-on or custom treatment. Sugar scrubs are particularly effective following a sweat of any kind such as infrared sauna or hot yoga. They're also great for late summer and early fall specials when your clients are transitioning into a skincare routine focused on eliminating dull, rough-looking summer skin.
Another opportunity for working sugar scrubs into your spa menu is offering them as a customizable option. Your staff can easily customize a sugar scrub to the client's skin type by adding hydrating or brightening ingredients. There is also an aromatherapy angle to work here by giving the client their choice of essential oils to add to the sugar scrub.
Make the most of the rising sugar scrub trend by offering sugar scrubs as an add-on or upgrade to your facial treatments. You can even customize them to your client's individual needs or make them seasonal with featured ingredients like rosemary or cedar.