While most spas tend to cater towards female clientele, we are starting to see a shift in the balance between genders.
Years ago, male spa-goers represented a small fraction of a spa's clients. Today, however, male spa-goers have skyrocketed to around 47% (based on research from ISPA).
Statistics aside, the fact remains that the gender gap is closing among spa visitors. If you're looking to grow your spa, it's important to draw in and cater towards a male demographic. One of the best ways to do this is through incorporating male facial treatments into your spa menu.
What Do Men Want at the Spa?
Though skincare is often catered toward women, men want healthy skin just as much as anyone. We're all prone to sun damage, aging, and skin problems and it's completely natural to want to resolve these issues. Like any spa client, men want to be able to trust their esthetician. They want to know their esthetician understands their skin concerns and can help them devise a plan to improve their skin.
One of the biggest skin concerns among men is beard and hair growth issues. Shaving is a daily task for many men, so it's essential for men to learn how to shave correctly and how to take care of their skin afterward. In the same vein, it's important for estheticians to recognize that the beard area is sensitive – incorrect movements during treatment can be uncomfortable or even painful.
Finally, many men don't want to leave the spa smelling like a fresh bouquet of flowers. It's important to ask them what their preferences are and possibly use products with gender-neutral scents or go fragrance-free.
Professional Tips for Male Skincare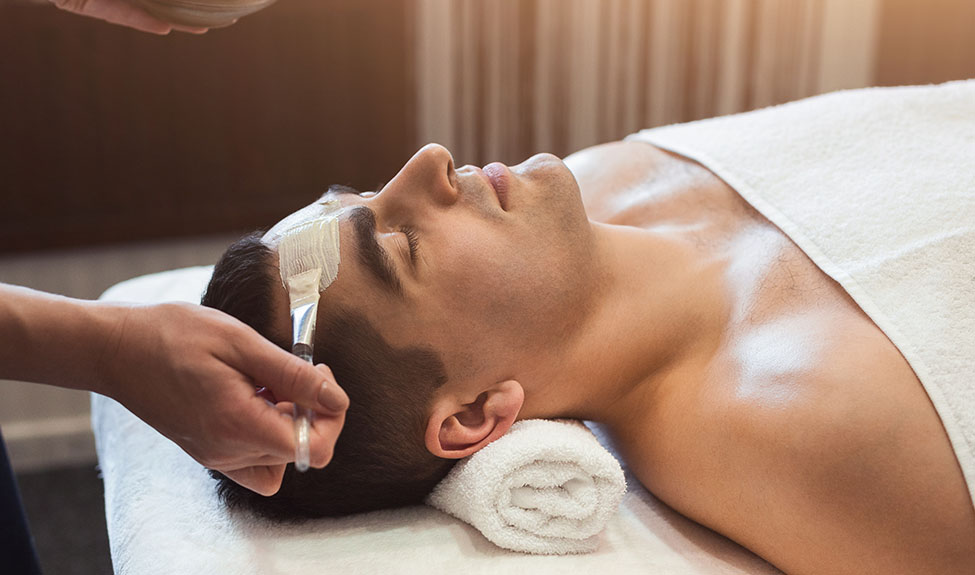 When a man enters your spa, he should be treated like any other client. A detailed intake is a must – the more information you can gather about the client's skin and their skin concerns, the better. The information you gather at intake will help you create a tailored treatment plan.
Once the client enters the treatment room, start with a skin analysis. Skin comes in all different types, regardless of gender. A man with dry skin may benefit from moisturizing treatments while a man with oily skin might prefer to focus on balancing oil production.
Throughout the treatment, it's a good idea to communicate with the client about what products and techniques you are using – especially if they are a first-time spa goer. Education is an essential aspect of any spa treatment. You want your client to know you understand their concerns and provide them with useful information to maintain their results at home. It will also set you up for making specific product recommendations at the completion of the treatment.
When it comes to the treatment itself, keep in mind that you may need to alter your techniques to cater to male clients. Be gentle in the beard area and incorporate treatments for ingrown hairs or sensitive skin. A good general rule is to avoid using upward movements in the beard area, especially on the neck.
Creating a Memorable Tailored Facial Treatment for Men
Every client who walks through your doors, regardless of gender, should be treated with the same level of professionalism. As such, it's your job to create a unique and memorable spa experience. From intake to checkout, your clients should feel comfortable. Upon leaving, they should feel like they've enjoyed an effective treatment and they're going away with the information (and products) they need to maintain their results at home.
Here are some helpful tips for administering facial treatments for your male clients:
Most men have combination skin, so it's important to choose your products accordingly. Avoid thick and heavy products in favor of lightweight, easily absorbable products.
Men's skin can also be dehydrated but isn't typically alipidic (dry). Male skin typically produces enough sebum, so it may be more important to use hydrating water-based products that won't increase oil production too much.
When making product suggestions, don't neglect to mention scrubs and shaving products. Lightweight moisturizers are always a good suggestion, so their pores don't clog and, of course, don't forget to include sun protection.
If you're going to suggest an at-home routine, keep it simple. Most men don't spend as much time in front of the bathroom mirror as women do – keep it to around three or four steps.
Don't forget to address issues with back and skin acne. This is where body scrubs can come in handy, both during spa treatments and at home.
Ask your client about their shaving practices and provide tips when appropriate. If your client frequently gets razor burn or ingrown hairs, suggest products to remedy these issues at home.
Male or female, we all deserve a day to rest and relax now and then. The importance of self-care has become widely recognized, but the space is still largely dominated by women.
As a spa owner or skincare professional, you have an amazing opportunity before you to expand your client base and grow your business by tapping into the male market. Take the time to learn and teach spa staff about the ins and outs of male skincare so you can create tailored treatments to meet the needs of your male clients and keep them coming back time and again.