If you're considering a career in the beauty and wellness industry, you have many options to choose from. Unless you already have a specific career in mind, you may want to pursue a license that will give you a variety of options for the future with plenty of room for growth.
Obtaining your esthetician license prepares you to work in a spa or salon, but it doesn't limit you to that option alone. Once you've obtained your license, you can pursue additional training and certifications to perform specialized procedures and treatments such as microdermabrasion, dermal fillers, and laser hair removal in some states. If you're interested in working in a medical spa, dermatologist's office, or plastic surgery practice, you will need to complete additional training to become better prepared to work in this expansive environment.
In this article, we'll cover the difference between a traditional esthetician with a focus on wellness vs. an esthetician with a scope of practice that is more medical. We'll explore the path to pursuing a career in medical esthetics as well as some of the options for employment and specialized treatments you may be qualified to provide.
Esthetician vs. Medical Esthetician
Cosmetology is the study of hair, skin, and nails. As an esthetician, you'll be trained as a professional skincare specialist – you may learn some of the basics of cosmetology in school, but you'll be licensed for skincare. You may even specialize in certain niches such as electrolysis. A medical esthetician is simply a licensed skincare professional who works in a medical setting.
To become an esthetician, you'll need to complete a formal education program including an average of 600 hours of training. Licensing requirements vary from one state to another, so your best bet is to enroll in a training program accredited by the National Accrediting Commission of Cosmetology Arts and Sciences (NACCAS). Once you've completed the necessary requirements, you'll sit for the state board exam to try for your license.
Medical Esthetician Training and Licensing
A medical esthetician is a licensed esthetician who has obtained additional training to work in a medical setting. While there isn't a separate licensing requirement for medical estheticians, if your end goal is to work in this field, you may be able to focus your early training and education with this goal in mind. The other option is to become a licensed esthetician first then pursue additional training and certifications.
Here are some of the procedures and treatments you may want to explore as a medical esthetician:
Permanent Makeup – These procedures involve using semi-permanent or permanent pigment in the lip and eye areas such as lip tinting, eyebrow filling, and permanent eyeliner.
Pre- and Post-Surgical Skincare – Often administered to patients who've had skin trauma caused by burns or abrasions, medical estheticians may provide pre- and post-surgical care.
Microdermabrasion – A minimally invasive procedure used to renew skin tone and texture, microdermabrasion involves sanding away the outer layer of skin with a special applicator.
Manual Lymphatic Drainage – Commonly administered to patients with lymphedema, this procedure is used to drain the lymph nodes, increase blood flow, and support circulation.
Advanced Hair Removal – This includes permanent hair removal techniques such as laser treatments and intense pulsed light to keep hair follicles from growing.
Eyelash Extensions – Used to enhance the thickness or length of natural lashes, this procedure involves attaching synthetic eyelashes using semi-permanent glue.
Dermaplaning – This procedure removes the top layer of skin using an exfoliating blade to smooth the skin's surface and remove peach fuzz for a more youthful appearance.
The same way licensing requirements vary from one state to another, not all states require certification for some of the services performed by medical estheticians. You'll need to check with your state licensing board as you pursue additional training, depending what services you're interested in learning.
Where Can You Work as a Medical Esthetician?
When deciding between a career as a traditional esthetician and a medical esthetician, it's important to understand the options each path offers. As a standard esthetician, you'll be qualified to work just about anywhere that provides skincare services. This includes spas, salons, resorts, and private practices.
Here are some of the places you might work as a medical esthetician:
Medical spas (medi-spas)
Dermatology offices
Plastic surgery practices
Medical clinics or hospitals
Luxury spas and resorts
Medical estheticians are often paid higher than standard estheticians because they have obtained additional training and are certified to perform specialized services. The average salary for an esthetician is around $40,000 but medical estheticians earn a median annual salary closer to $50,000. For both standard and medical estheticians, your income will depend largely on where you end up working.
What is a Medi-Spa?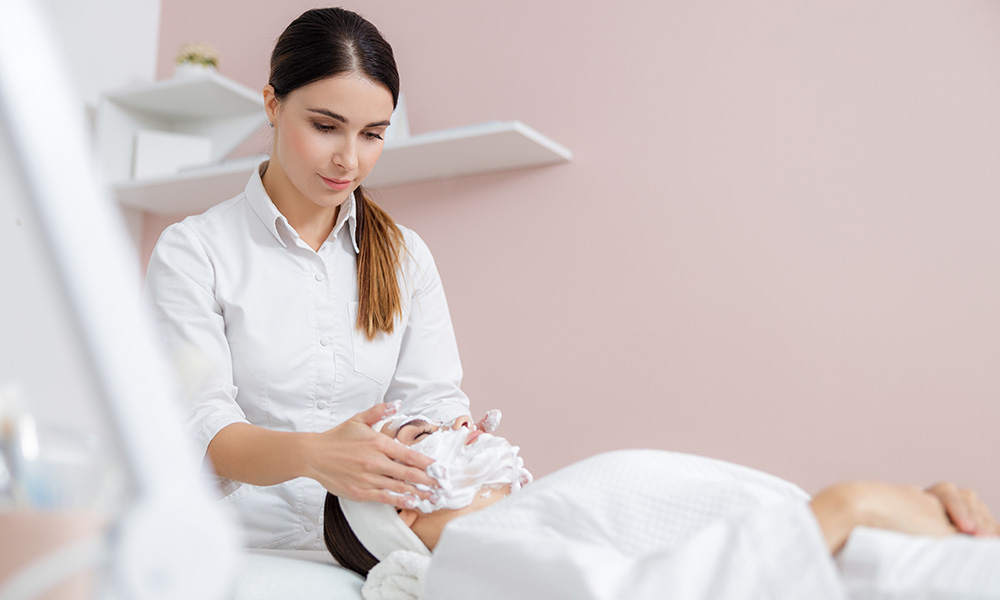 If you're interested in pursuing a career in medical esthetics, one of the most lucrative options you should explore is working in a medical spa or med-spa. A medi-spa is a hybrid between a traditional day spa and a medical clinic where clients enjoy a relaxing spa experience but have access to more specialized procedures that can't be performed at the average day spa.
Here are some of the specialized treatments you might find at a medi-spa:
Intense pulsed light (IPL) therapy
Injectable dermal fillers
Chemical peels
Dermaplaning
Laser skin resurfacing
Microneedling
Non-surgical fat reduction
Microdermabrasion
Microblading and permanent makeup
Laser hair removal
Unlike a traditional day spa, medical spas must be affiliated with or overseen by a medical doctor. The practitioner who actually administers the treatment will depend on the treatment itself. Standard estheticians will administer cosmetic procedures while medical estheticians may administer more specialized non-invasive treatments like microdermabrasion and superficial peels.
What Does a Career in Medical Esthetics Look Like?
As an esthetician, your career will be focused on professional skincare. If you work as a traditional esthetician at a spa or salon, the majority of your work will involve performing skin analyses and administering facials to address common skincare concerns like dryness and aging. You may also be expected to make product recommendations and customize skincare regimens. If you choose to further your career and become a medical esthetician, you may be able to take a more direct role in the treatment of these concerns as well as resistant skin conditions like rosacea, pigmentation, and acne.
As a medical esthetician, another important role you may play is educating medi-spa goers about their daily skin care regimens. Standard esthetician training prepares you to identify client skin types and recommend products, but as a medical esthetician you may be able to customize client treatments to a more significant degree to effect real, permanent change and improvement. Depending what extra training you pursue, you may also be able to offer your clients complementary services or make custom recommendations in support of pure, whole-body wellness.
The beauty and wellness industry is growing by the day and estheticians have the opportunity to enjoy a successful and lucrative career. If you want to take your career to the next level and open yourself up to a new world of possibility, consider advanced training to become a medical esthetician.